Welcome
Error: image is invalid or non-existent
Shiawase Kissa Sanchoume database that anyone can edit!
381 edits to 11 articles since it was made! You can help us by contributing!
This wiki contains a lot of spoilers relating to Shiawase Kissa Sanchoume. Read at your own risk!

Please see below for important pages.
---
---
About Us
·
Community Portal
·
Recent Changes
·
Policy
·
Images
·
Templates
·
Wanted Pages
·
Help
Please Help Out!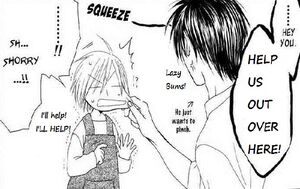 Right now, Shiawase Kissa Sanchoume Wiki needs a lot of your help. Anyone can help out just by adding info and sharing anything you know about the Shiawase Kissa Sanchoume manga, though the best way to start adding info is by editing articles that need more info. You can also help by adding a photo. We'll be counting on you! Thank you so much for your time!
About Shiawase Kissa Sanchoume
About Shiawase Kissa Sanchoume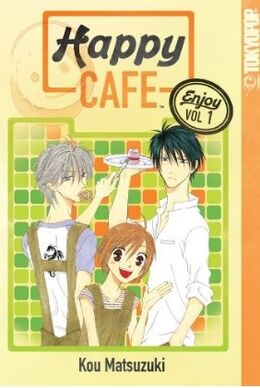 Shiawase Kissa Sanchoume (幸福喫茶3丁目) is a manga series written and illustrated by Matsuzuki Kou. The series was serialized in Hakusensha Shōjo monthly magazine Hana To Yume and the serial chapters collected into fifteen Tankōbon released between July 2005 and November 2009. Publishing companies Tokyopop has licensed the manga for release in America and as well Sharp Point Press in Taiwan. It is about Takamura Uru, a naive and cheerful girl who is often mistaken as a middle school student because of her short height. After her mother got remarried, she took a part-time job at a small cafe called Cafe Bonheur. There she meets co-workers Satsuki Shindou a pâtissier who rarely smiles but is actually very kind and Ichirou Nishikawa who falls asleep instantly when he's hungry. Even though they're scary and weird at first glance, something inside them will change as they meet Uru and feelings of love will develop as Uru works hard to bring and show them happiness once again...
Featured Article
Takamura Uru


Takamura Uru (高村ウル) is the energetic 16 year-old heroin who's usually mistaken as an elementary school girl because of her short height and childish looks. However, she has superhuman strength and is probably stronger than most adult men. When her mother remarries, she decides to move out of the house to give the new couple space and starts to live alone and working in Cafe Bonheur. She soon wins over the unsociable baker Shindou and the indifferent waiter Ichirou with...

Main Article: Takamura Uru
Featured Manga Chapter
Chapter 12 Again... Spoiler alert! Read At your own risk!


Chapter 12.
Fan Made Portal
This is the Fan Made Portal. Here, we choose one winner from each of the following categories: Fan Art, Fan Fiction, and Fan Made MMVs regarding Shiawase Kissa Sanchoume.
For this month, the following are the Features:
Picture of the Month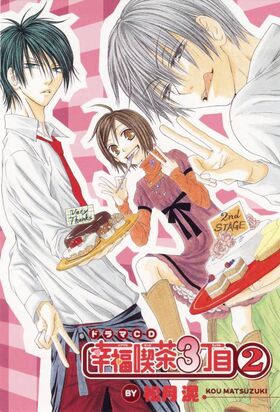 Join us on Facebook
WikiaAnime Twitter Feed

Characters
Main Page Poll
Any Question?

Featured Quote
"
I want you... to smile.
"
Matsuzuki Kou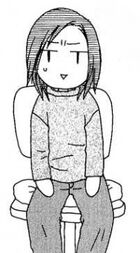 Matsuzuki Kou (松月滉) is a Japanese Shoujo manga artist most known for her manga Shiawase Kissa Sanchoume. She was born in Aichi, Japan on October 3 and debuted with the manga Aisatsu no Tobira. Currently, she's working on the serialized manga Ouji to Majou to Himegimi to. Some of her other works are...
Help Start A New Article
Start a new article

To start a new article, just enter the article title in the box below and click Create New Article.

If not, then please help out in the stub pages.